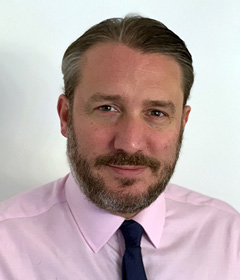 Dr. Christopher Lawrence
Director of Medical Affairs,
Thermo Fisher Scientific
Patient Care with Precision
As the global leader in transplant diagnostics, One Lambda is committed to advancing the field of transplantation to improve the lives of patients worldwide.
Our comprehensive product portfolio includes a broad range of Antibody Detection assays, post-transplant monitoring solutions including the novel Molecular Microscope® Diagnostic System, HLA Typing products, laboratory instrumentation and software, and industry-leading customer support.
Clinical Applications for MMDx®: Gene Expression Profiling in Transplant Biopsies
ATC 2021 Satellite Symposium
With a future effective LCD announced for molecular testing for solid organ allograft rejection, clinicians may now consider applying molecular gene expression profiling in a variety of clinical cases. This presentation will explore the use of the Molecular Microscope® Diagnostic System for the management of post-transplant kidney and heart patients. The speakers will discuss a variety of case studies where molecular assessment was applied to diagnose allograft dysfunction and to determine if rejection was due to antibody-mediated rejection (ABMR), T-cell-mediated rejection (TCMR), or a combination of both.
MMDx and Molecular Microscope are registered trademarks of Transcriptome Sciences Inc.
MMDx is a Laboratory Developed Test (LDT) offered by Kashi Clinical Laboratories.
MMDx is not intended to provide information for the diagnosis, prevention or treatment of disease or to aid in the clinical decision making process. This system is not cleared or approved for clinical use by the FDA or approved in the EU as an in vitro diagnostic test, nor is it CE marked.
Immune Response to Covid-19 In Kidney Transplant Waitlist Patients
Guest Speaker: Peter Jindra, Ph.D., D(ABHI)
Assistant Professor, Director of the Immune Evaluation Laboratory.
Featured Publication:
Analysis of RNA Transcripts by the Molecular Microscope Diagnostic System (MMDx) Can Direct Management after Indication Kidney Transplant Biopsy
Establishing the cause of kidney allograft dysfunction is often reliant on biopsy appearances. Despite biennial refinements in the Banff classification there remain challenging issues such as 'borderline' for T Cell-Mediated Rejection (TCMR).
Copyright © 2021 Thermo Fisher Scientific Inc. All rights reserved.