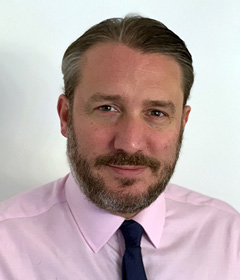 Dr. Christopher Lawrence
, BSc MBBS LLM MD(Res) MRCP(nephrology) FRCP
Director of Medical Affairs,
Thermo Fisher Scientific


Case Study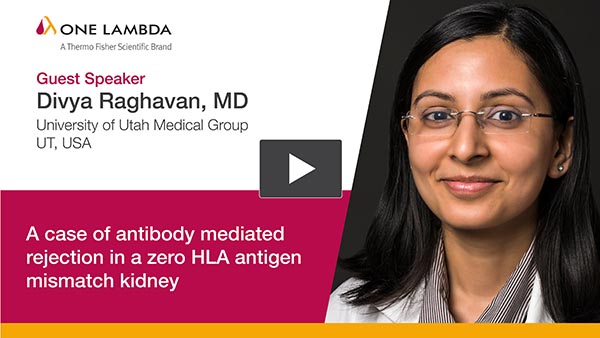 A Challenging Diagnosis in Kidney Transplantation: A case study on how the Molecular Microscope Diagnostic System for Kidney (MMDx Kidney) provides added confidence and alters management
Dr. Raghavan's case study at 2021 ATC describes how MMDx Kidney can help in challenging kidney transplant diagnostics, how MMD Kidney reports were more consistent with the patient's clinical course, and how they increased confidence in the patient management. We bring the full video case study as well as the written summary.
Read the full case study titled "A Challenging Diagnosis in Kidney Transplantation: A case study on how the Molecular Microscope provides added confidence and alters management" at:
go.1lambda.com/video-rgvn2021
Featured Publication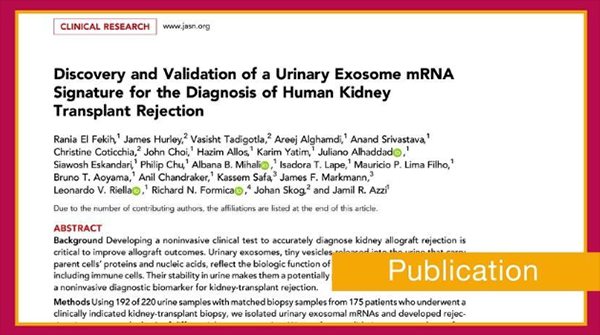 New Research: Discovery and Validation of a Urinary Exosome mRNA Signature for the Diagnosis of Human Kidney Transplant Rejection
In this paper, Dr. Rania El Fekih et al. describe the discovery and validation of two urinary exosomal mRNA multigene signatures for the non-invasive diagnosis of acute TCMR and ABMR as well as chronic active ABMR in kidney transplant patients. The study determined that these exosomes show high stability, suggesting this may be a reliable and non-invasive method for allograft rejection monitoring.
Read the full publication at:
jasn.asnjournals.org/content/32/4/994
Analysis of RNA Transcripts by the Molecular Microscope Diagnostic System (MMDx®) Can Direct Management after Indication Kidney Transplant Biopsy
/Download/Asset/Analysis-of-RNA-Transcripts.pdf?cid=1351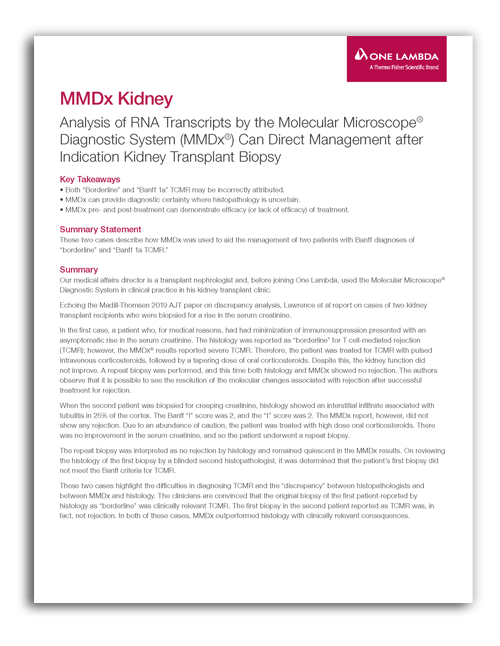 Discrepancy analysis comparing molecular and histology diagnoses in kidney transplant biopsies
/Download/Asset/Discrepancy-analysis.pdf?cid=1352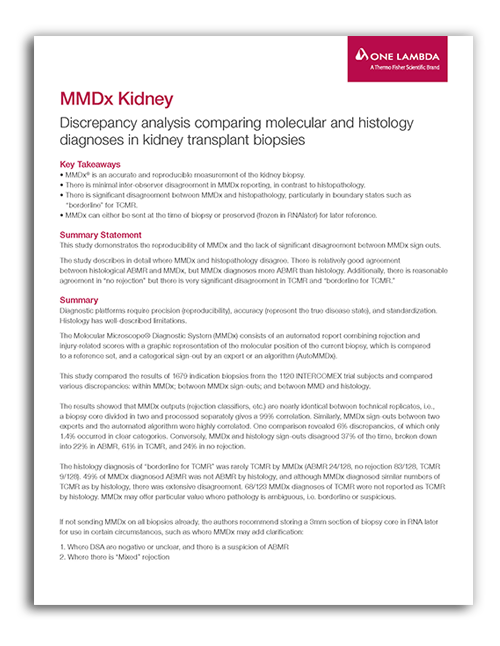 Gene Expression Profiling for the Identification and Classification of Antibody-Mediated Heart Rejection
/Download/Asset/Gene-Expression-Profiling.pdf?cid=1353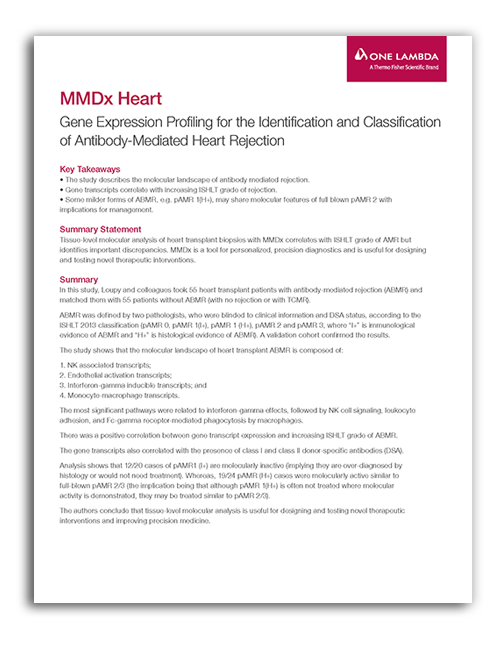 The MMDx® interpretation of solid organ allograft biopsies
/Download/Asset/MMDx interpretation of solid organ allograft biopsies.pdf?cid=1375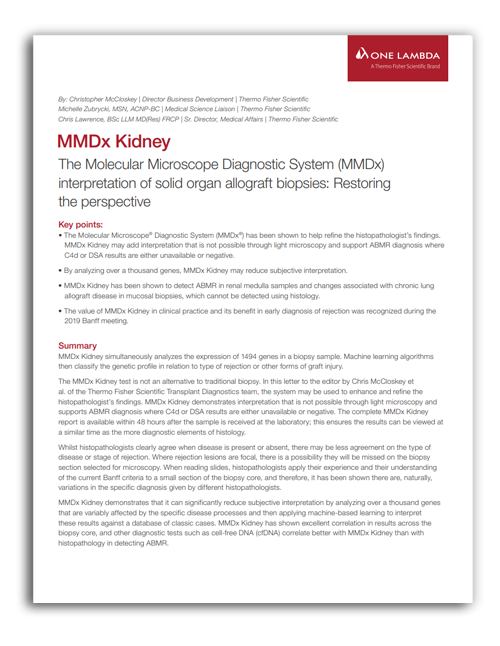 Novel Technology Has Made It Possible To Diagnose A New Clinical Phenotype Of Rejection Called Early Antibody Mediated Rejection, With Significant Therapeutic Implications For Renal Allograft Survival.
/Download/Asset/Novel-Technology.pdf?cid=1354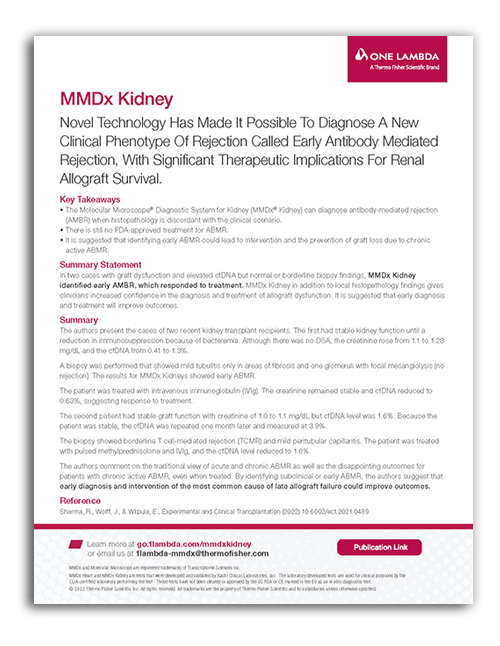 Revisiting the changes in the Banff Classification for antibody-mediated rejection after kidney transplantation
/Download/Asset/Revisiting-the-changes.pdf?cid=1355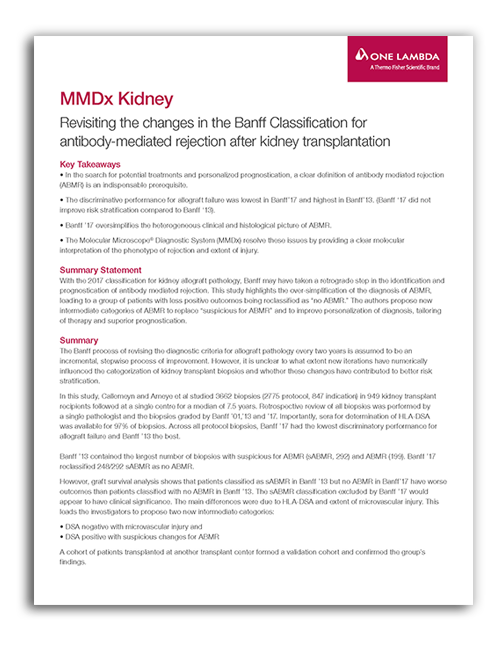 US payer budget impact of a microarray assay with machine learning to evaluate kidney transplant rejection in for-cause biopsies.
/Download/Asset/US-payer-budget-impact.pdf?cid=1356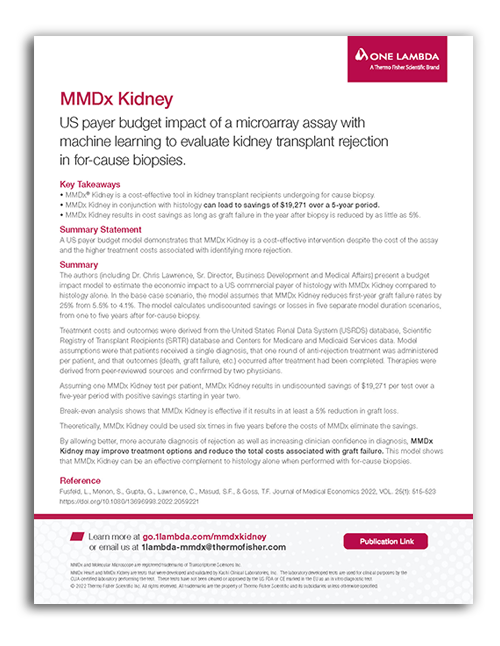 The MMDx® interpretation of solid organ allograft biopsies
Copyright © 2022 Thermo Fisher Scientific Inc. All rights reserved.